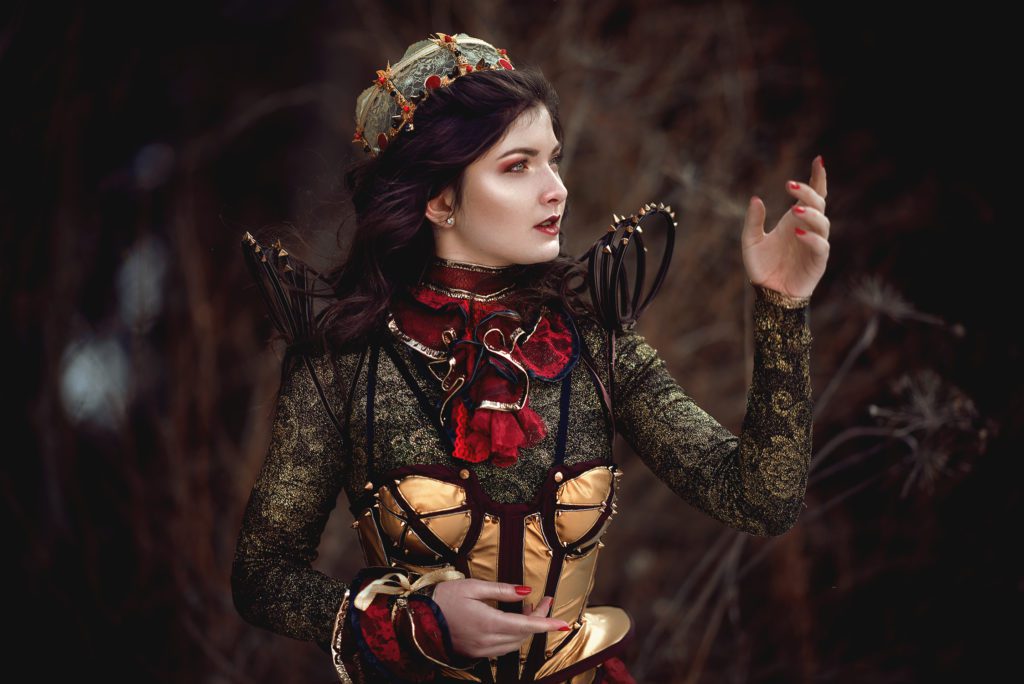 This Fantasy Photoshoot Guide should help you to clarify the steps you're going through when you decide to shoot unusual fantasy stuff!
Most people don't know exactly what a Fantasy Photoshoot is and how it's organised. I can understand this because it's something particular and it's simply something you're not confronted with every day. Let's clarify!
1. Contact Me For A Discovery (Video)Chat
If we don't get in touch, nothing is going to happen. You can fill in the contact form so that I can help you better in choosing what we're about to shoot. You can tell me more about you too, to break the ice. Afterwards, we will schedule a video chat or meet up to talk about the ideas and get to know each other. It's important that you feel completely at your ease. If you want to book after the discovery chat, I gently ask you to pay your photoshoot in advance and sign the contract.
2. Choosing The Fantasy Outfit
Since I don't have all the outfits at my home as I rent them from other artists as well, we absolutely need to clear the ideas first and see what your size is. I'm going to send you some outfits that could be right for what you'd like to do. In some cases, I can create something for you too. An artist with whom I love to work with is Kathleen Guérisse, you can find her interview here: Interview with Kathleen Guérisse – or see her website: www.generalguerisse.com.
HOW LONG DOES IT TAKE?
A) If you're a very decisive person and the outfit is ready, it can take just a week to prepare everything needed.
B) If it takes longer to decide or the outfit isn't ready yet, then it may take up to a month to have everything available.
3. Choosing The Shooting Location
When we know what we're going to shoot, I can suggest what locations could be perfect for you. I can send you some link and pictures.
IF THE WEATHER IS BAD?
We'll always see how bad it is. It's just a thing we can decide on the morning of the photoshoot. If we have to reschedule – there is no problem to do so.
HOW DO WE GET TO THE LOCATION?
Usually, after you're ready with your makeup, I drive you to the shooting location and you don't have to bother about anything. Afterwards, we drive back where you got your makeup. Either at my place or yours. This can vary from photoshoot to photoshoot. We'll organize everything as comfy as possible.
4. Set A Date
The appointment is usually set after we could clear the points listed above. Seldomly I go the way back because so much can change in the meantime. I do so in order not to get both overwhelmed with the preparation. Also, some locations are more crowded in some days – so we have to find a suitable date for the location you want to shoot in.
WHAT IF I HAVE TO CANCEL OR RESCHEDULE The Fantasy Photoshoot?
This can happen. I won't be mad at you. Obviously the appointments should be taken seriously. We can reschedule 2 times for personal reasons. If you have to completely cancel, the paid amount will become a money-voucher, valid for 2 years. Afterwards, it will expire.
5. Getting Ready For The Photoshoot
As listed on the points above, you can come to my place to get ready or I will come to your place – depending on where we are going to shoot. I'll do the makeup and help you get into your outfits. This will take around 1,5h. In the process, we will get to know each other. I always love this step. 🙂
WHAT IF I HAVE ALLERGIES TO THE MAKEUPS?
Then please tell me asap! If you know you're allergic to certain products, then please let me know, so that we can manage not to kill you. I won't take the responsibility for allergic reactions if you don't know about or don't tell me before. Fortunately, until now, I haven't killed anyone for this reason.
6. The Fantasy Photoshoot
The Fantasy Photoshoot itself will take about 1h but if I see that we need some more time or if something inspires us especially – we'll take some more time. Also if it starts to rain during the photoshoot, I'll make sure we find an alternative. I give you all the advice needed to look flawless. You can have a look at the pictures in the meanwhile too so that you can see what to improve and what already looks perfect. This is going to give you so much more confident about yourself. You can see the improvements from the beginning to the end.
7. The Fantasy Photographs
Fantasy photography is a lot of editing and retouching work. That's why the photographs look so unusual and have very special colour tones. Now you can sit back and look at what came out during the photoshoot. Here you have some F.A.Q.s about what is going to happen after the fantasy photoshoot.
HOW CAN I SEE THE PHOTOGRAPHS?
You will get an awesome online photo gallery where you can see all the good pictures we took on the shooting day! Don't worry – it's password protected and no one is going to see it.
HOW MANY PHOTOGRAPHS WILL THERE BE?
You will get a pre-selection in your gallery. Usually, you can count with 60 photographs edited with unusual fantasy colours already.
You can choose your favourite photos, and I will retouch them in my signature fantasy style. You can choose as many as you have in the package but can add all you want for an additional fee.
WHEN DO I GET THE PICTURES?
You'll get the pre-selection gallery of your pictures around 7 days after your shooting day, and the full edited photos delivered to your inbox, no later than 15 days from your decision date. See the full FAQs here:
8. The Prints & Photobox
It's so important to make your fantasy photoshoot real and touchable. That's why I always print the photographs. They're important! You should always be remembered of it and feel super confident. I will give you 2-3 proposes and you can decide the colours of the photobox (only with the Deluxe Packaging) and if you want the prints on passepartout* or cardboard. No later than 14 days after ordering, you will embrace your photographs at your place. ENJOY!
Does THIS FANTASY PHOTOSHOOT GUIDE sound great to you?
Then contact me for a discovery call and let's see if I can help you become the goddess you deserve to be!
PIN IT FOR LATER!